Water Heater Repair and Installation
There are a number of different types of water heaters such as electric water heaters, gas water heaters, and tankless water heaters. Regardless of the water heater heater repair or installation your home or business needs, we can help. Our plumbing professionals know precisely how to fix them.  We can stop leaks, replace or complete an installation of new water heaters. We handle any water heater related issues.
Standard Tank Water Heaters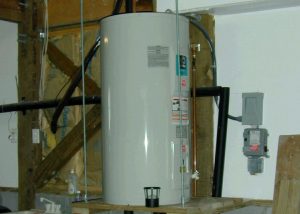 Standard tank water heaters are large holding tanks which store up to 80 gallons of water. They are quite insulated so your water will stay hot on demand.
Tank water heaters are quite dependable, but they can have issues on occasion. A few commonly occurring problems that could affect standard tank models of gas and electric water heaters are listed below.
No Hot Water
The most common reason for having no hot water from the water heater is a tripped circuit breaker. The first thing that should always be checked when there is no hot water is the circuit breakers.
If the fuse box does not have any tripped switches, the heating elements or the thermostat on an electric water heater should be checked next. On a gas water heater, the most important parts to inspect are the pilot and the gas control valve.  Contact our repair specialists for assistance.
Rusty, Dirty, or Discolored Water
Hot water that comes out rusty looking from the tap could be from corrosion of the pipes, water tank, or anode rod. If this is not treated, corrosion will get worse and in time will cause the hot water tank to begin leaking. Changing out an anode rod is a pretty simple task which will most likely extend the life of your water heater by a number of years and is worth fixing.
Hot water that is discolored, but has no visible signs of rust is probably a result of hard water calcification build up on the heating element or sediment inside the tank.
Smelly Hot Water
Hot water that comes out of the tap smelling like rotten eggs or sulfur is probably the result of a build up of bacteria inside the hot water heater.  This can be treated.
Water Leaking from the Bottom
A water leak from the bottom of the tank is a common problem which could result from a few issues. It could be from a temperature and pressure valve that has gone bad, condensation, a leaking gasket, deterioration of the tank, or draining from the overflow pipe.
Water Leaking from the Top
Water leaking from the top of the water heater is often from the hot water outlet or cold water inlet pipes, a malfunctioning temperature and pressure valve, or a loose connection.
Pilot Light Issues
There are some different reasons why a pilot will not light or stay lit. The pilot light tube may be clogged, there could be air in the gas line, the gas valve could have become defective, or the thermocouple may need replacing.
Strange Noises
Odd sounds coming from your water heater such as banging, knocking, hissing, and other noises often occur when there is a buildup of sediment in the bottom of the tank. Hissing could also be caused by leak or condensation. Most water heater sounds are really not serious, but it's always a smart idea to get them checked out.
Low Hot Water Pressure
Sudden drops in hot water pressure are often due to sediment which has built up in your pipes or faucets.
Call us today at (877)-959-3534 for Gas or Electric Water Heater Repair, Replacement and Installation in your area.
Tankless Water Heaters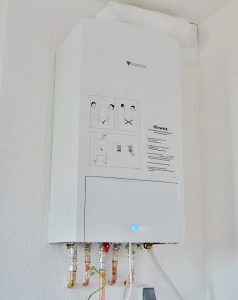 Tankless water heaters are the newest development of water heaters. They are more energy efficient than their tank counterparts, are more cost efficient to run and have a longer lifespan. They are more expensive initially to purchase. One big benefit is that they take up a lot less space and won't run out of hot water.  The downside is that upon installation they can require the addition of  some extra accessories as well as re-plumbing or re-routing of gas and water lines.
Tankless Water Heater Installation
Our skilled plumbers can assist with installing a new tankless water heater system or upgrading an existing system. It's essential to find a plumbing professional who is familiar with all local the plumbing codes for your area.
A tankless water heater will use more gas than a common tank heater, and could require wider gas lines than you currently have. You will want to verify that your existing water piping can accommodate a tankless heater. If not, you may need to do some extra upgrades to switch to a tankless system.
Common Tankless Water Heater Problems,
No Hot Water
When your tankless water heater has stopped producing hot water, it may be the result of a number of different issues including a gas, electricity, or water supply problem, ignition failure, an error code in the machine, an obstructed pipe, or a frozen pipe.
Mineral Build Up
Calcification build up happens quite often and can cause damage to your tankless water heater. Having a water softener put in could slow the build up. You may also want to have your water heater flushed twice a year with a descaler.
Error Codes
The majority of tankless water heaters are equipped with a screen that will put out an error code when there is an issue}. There are a broad range of reasons why an error code may suddenly show up.
Call us today at (877)-959-3534 for Gas or Electric Water Heater Repair, Replacement and Installation in your area
Our service professionals work with all brands of Water Heaters including:
American

American Standard

AO Smith

Bosch

Bradford White

Ecosmart

Eemax

GE

Giant

Heat Pump

HTP

John Wood

Kenmore

Navien

Nibe

Noritz

Paloma

Reliance

Rheem

Richmond

Rinnai

Ruud

State

Stiebel Eltron

Takagi

Whirlpool
Popular cities for water heater repair and installation:

Irving, TX
Fremont, CA
Tacoma, WA
Birmingham, AL
Fayetteville, NC
Rochester, NY
Port Saint Lucie, FL
Salt Lake City, UT