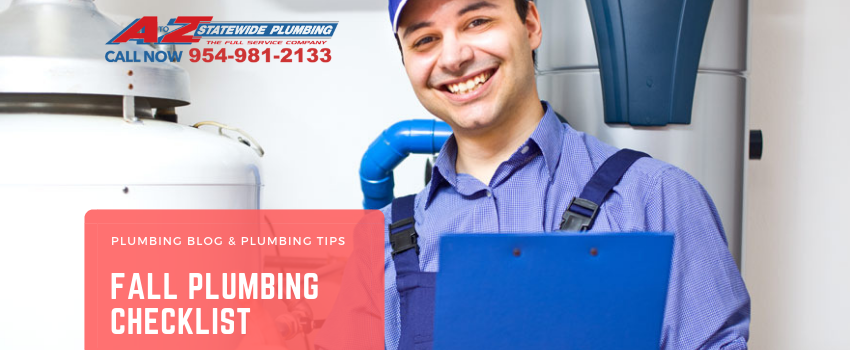 Fall is here and now is the time to get your plumbing prepared for the upcoming colder months. While Florida winters are not extremely harsh, plumbing problems can still occur if you have not performed the proper maintenance. Ready to tackle your plumbing to-do list, follow the tips listed below.
Remove Water Hoses: When you are done watering for the year, be sure to disconnect all of your outdoor water hoses. The cold weather can cause hoses to expand or leftover water at the connection to become frozen.
Inspect Your Faucets: Inspect both your inside and outside faucets for potential leaks. Not only can leaky faucets be an annoyance, but they also can lead to water damage, cracks, and higher water bills.
Remove Built-Up Debris From Your Gutters: Yard waste, debris, pollen, and dirt can accumulate in your gutters and downspouts. When the temperatures fluctuate throughout the colder months, the build-up may lead to problems draining and could even cause damage to your gutter.
Address Any Clogs: Now is the time to address any clogs or slow-moving drains in your home. With the holidays coming up, you will want to make sure your plumbing is functioning well for your house guests.
Check Your Valves: Valves can easily wear over time, and it is important to make sure that they are functioning as they should. Test them to make sure that they move freely, and inspect them for any visible signs of damage.
Flush Out Your Water Heater: With the colder temperature coming, your water heater will be putting in significantly more work than before. Sediment buildup in your water heater can lead to corrosion which can ruin its efficiency as well as reduce the life span of the appliance. Flushing it out can remove this build-up ensuring it functions properly.
Insulate Your Pipes if Needed: If you have areas in your home that are unheated such as crawl spaces and garages, you should add additional insulation such as heat tape, to protect them against dropping temperatures.
Have Your Sump Pump Clean and Inspected: If you have a sump pump in your home, it can freeze or stop operating if the temperature drops to low. You should always have an annual cleaning and check performed on your sump pump to help it keep functioning as optimally as it should.
Need help attending to your fall plumbing maintenance checklist, or have you discovered some repairs that need addressing? Contact the plumbing professionals at A to Z Statewide Plumbing. Our trained professionals can help you rectify any plumbing issue from clogs to leaks, to pipe replacement, to ensure that your home stays comfortable all year long.
Trending Topics Right Now
This post first appeared on http://www.atozstatewideplumbing.com