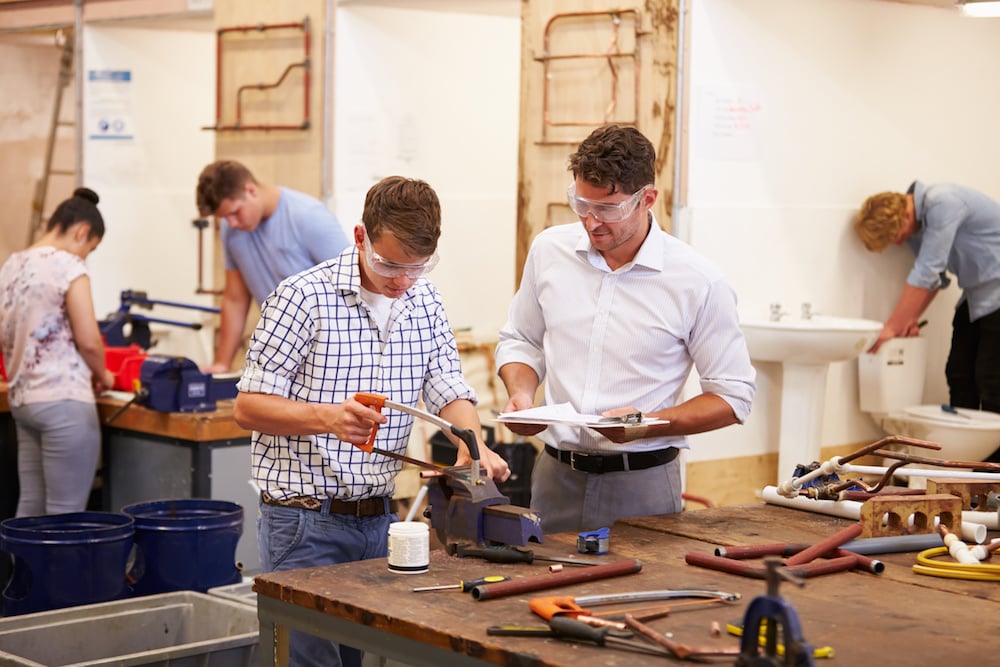 As long as there has been plumbing, there have been plumbing problems. That's probably never going to change! This makes plumbing a great profession to get into if you're looking for job security. In fact, the Bureau of Labor Statistics reports that there are expected to be, on average, more than 50,000 openings nationwide for plumbers, pipefitters, and steamfitters each year over the next decade.
So how do you learn to be a plumber? As Sacramento's plumbing professionals, we have the answers!
The Plumber Career Path
Here's a quick look at the typical plumbing career path, from explorethetrades.org. Read on for more frequently asked questions!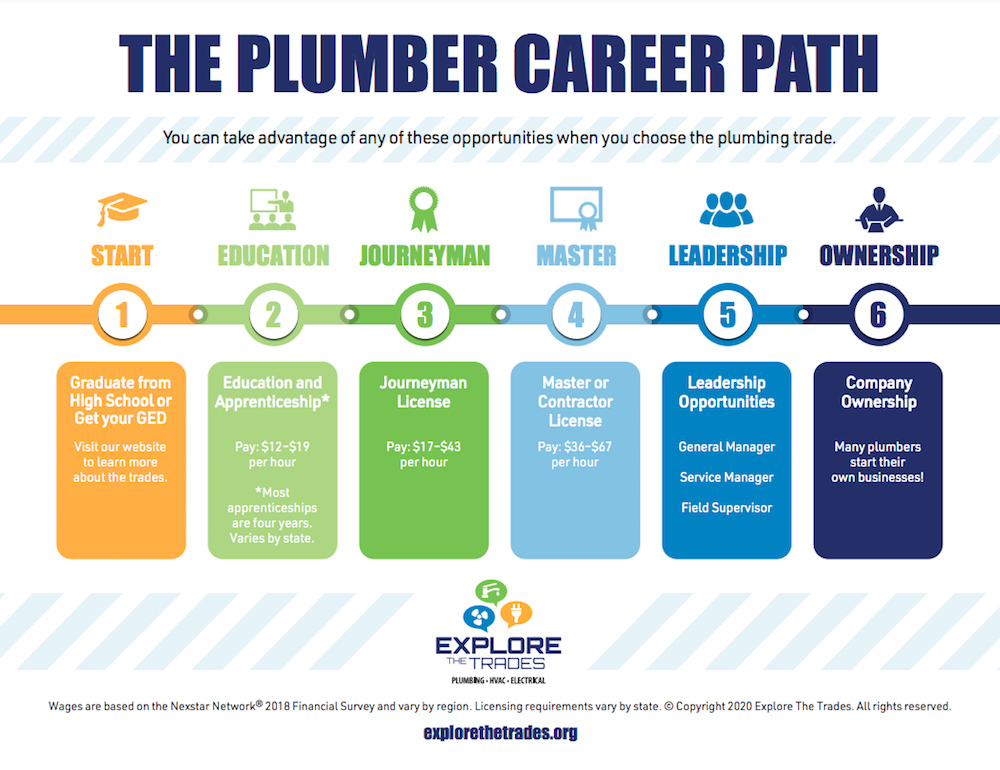 Becoming a Plumber: FAQs
What are plumber education requirements?
To become a plumber, you'll need to have a high school diploma or a GED. If you're currently in high school, along with taking traditional science, technology, computers, and math courses, you can set yourself up for further success by taking any drafting classes offered.
Is there a plumber training school?
Yes! While you don't need to go to college to become a plumber, a specialized plumber trade school is helpful. Consider enrolling in an accredited technical college or trade school that offers plumbing vocational classes to become certified on drainage systems, water, and how to use piping equipment.
Are there plumbing apprenticeship programs?
Following plumbing trade school, you'll need to complete a plumbing apprenticeship. During a plumbing apprenticeship, you will receive on-the-job training and learn about plumbing codes, plumbing procedures, and more. Look for plumbing apprenticeships here.
Do I need a plumbing license?
Many states require a plumber to be licensed. In California, ​​to legally perform plumbing work on projects valued over $500 in labor and materials you must be a licensed contractor. However, California does not require you to have a license to begin working and learning as a journeyman as long as you are directly supervised by a registered contractor. Following an apprenticeship, you can take an exam to obtain a license. This exam will assess your skill level and knowledge of plumbing codes and procedures. Learn more about the California plumbing licensing process.
How long does it take to become a plumber?
To become a licensed plumber, following all the typical steps outlined here, will take approximately four years.
How much do plumbing trade schools cost?
Vocational schools generally cost less than traditional four-year colleges and offer shorter programs but they still cost money to attend. Financial aid programs are available for plumbing trade schools.
How much do plumbers make in California?
According to Indeed.com, of the nearly 2,000 salaries reported as of 2022, the average salary for a plumber is $63,846 per year in California with an additional $7,625 overtime per year.
Express Sewer & Drain in Sacramento is Hiring!

Want to join our team in Central Valley Sacramento, CA? From residential plumbing and drain cleaning to larger commercial and municipal work, we have a variety of employment opportunities.
Plumbing Positions We Are Hiring For:
Plumbing Technician
Drain Cleaning Technician
Pipe Lining Technician
Project Manager
Laborers
Customer Service Representative (CSR)
Vacon Operator
Push-Camera Operator
Things We Offer Our Team:
Competitive Pay
Benefits: vacation, health insurance, 401k
Career Advancement Opportunities
Great Work Environment
Continuing Education Training
This post first appeared on https://www.expresssewer.com