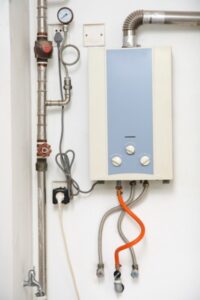 Call Us at (877) 959-3534 for Plumbing Service
If you're in the market for a new water heater, you are probably wondering what your options are. You know that both tank water heaters and the newer tankless models exist. But which is better?
Ultimately, both tank and tankless water heaters offer significant benefits, though in quite different ways. So it's not a matter of one being better than the other, it's simply choosing the one that would best fit your home and your needs.
Tank Water Heaters
These are the systems that most people are more familiar with. They keep a full tank of water at a high temperature all the time. Although the energy costs of doing so seem like they must be very high, modern tank water heaters have improved over old models. They are better insulated, and some have timers and easy ways to lower the temperature when you won't be needing hot water, such as when you're away from your home. However, they are still not as energy-efficient as tankless models.
If your family is small, and your needs are low, you can use a smaller tank heater, which will decrease energy waste. The cost of purchasing a tank water heater and water heater installation in Orlando is definitely lower than transitioning to a tankless system, which in the short term is a big benefit.
Call Us at (877) 959-3534 for Plumbing Service
Tankless Water Heaters
The initial costs of purchasing and installing a tankless water heater are greater. However, they are so energy-efficient that you will recover that investment and save money. If environmental impact is a big concern for you, you may prefer this system because it uses as little fuel and water as possible.
Tankless systems come in gas and electric versions and can supply 2-5 gallons of hot water per minute. Gas heaters usually provide more hot water per minute than electric. Keep in mind that when you're running warm water in the sink or shower, not all of what you're using comes straight from the water heater, so 5 gallons of very hot water can translate to a lot more comfortably-warm water per minute.
These systems also come in different sizes, so it's important to consider how much hot water is used in your home. A smaller system would not keep up well with a large family that often does laundry and runs the dishwasher while someone is taking a shower, for example. 
Call Us at (877) 959-3534 for Plumbing Service
This post first appeared on https://www.modernpi.com